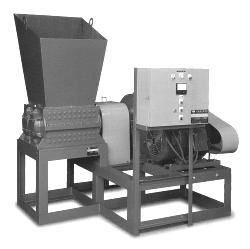 Excellent durability by adoption of high-rigid, hardened shaft
Top class cutter shaft diameter
Smooth drive by helical gears
Liquid coupling mechanism for shock absorption
Low speed/high torque crushing system assures low maintenance, low consumption power, reduced labor charge and reduction of noise and vibration
Compact drive mechanism allows small floor space, providing convenience and safety.
Hopper and drive are electrically interlocked for safety.
To protect an operator from noise nuisance, the low noise technology is included in the standard specification.